2000L Electric Brewhouse
2000L Electric Brewhouse
Description
2000L Mash/Lauter tun
2000L Mash/Lauter tun is a vessel used in the mashing process to convert the starches in crushed grains into sugars for fermentation. TBE mash/lauter tuns are insulated to maintain a constant temperature. The mash/lauter tun have a false bottom and spigot so that the sparging process can be done in the same vessel. Steam jacket design will allow The TBE systems are designed to do both decoction mashing and infusion mashing. The mashing tun/kettle is made out of stainless steel or copper.
It has the same capacity as the cooking tun and can also be made out of stainless steel or copper cladding. It has a design with a false bottom in stainless steel v-wire and a raking gear that has the function of an agitator, a rake and a spent gain remover. This is a very unique and helpful tool because after filtering the spent grains will be removed from the lauter tun, saving a lot of time and energy of the brewmaster. Furthermore the mash/lauter tun can be equipped with additional accessories such as sight glasses, CIP jets for simplifying the lautering.
2000L Boiling Kettle/Whirlpool tun
After lautering, the beer wort is boiled with hops (and other flavourings if used) in a tank known as a kettle/whirlpool tun. The boiling process is where chemical and technical reactions take place, including sterilization of the wort to remove unwanted bacteria, releasing of hop flavours, bitterness and aroma compounds through isomerization, stopping of enzymatic processes, precipitation of proteins, and concentration of the wort.
At the end of the boil, the hopped wort settles to clarify in the same vessel, there is a tangential inlet of wort on the vessel. Thus, a vortex is formed when the wort is infused along the arc inside surface, so that the more solid particles in the wort are separated out. Whirlpool can happen in the kettle because there is no obstacle inside the kettle.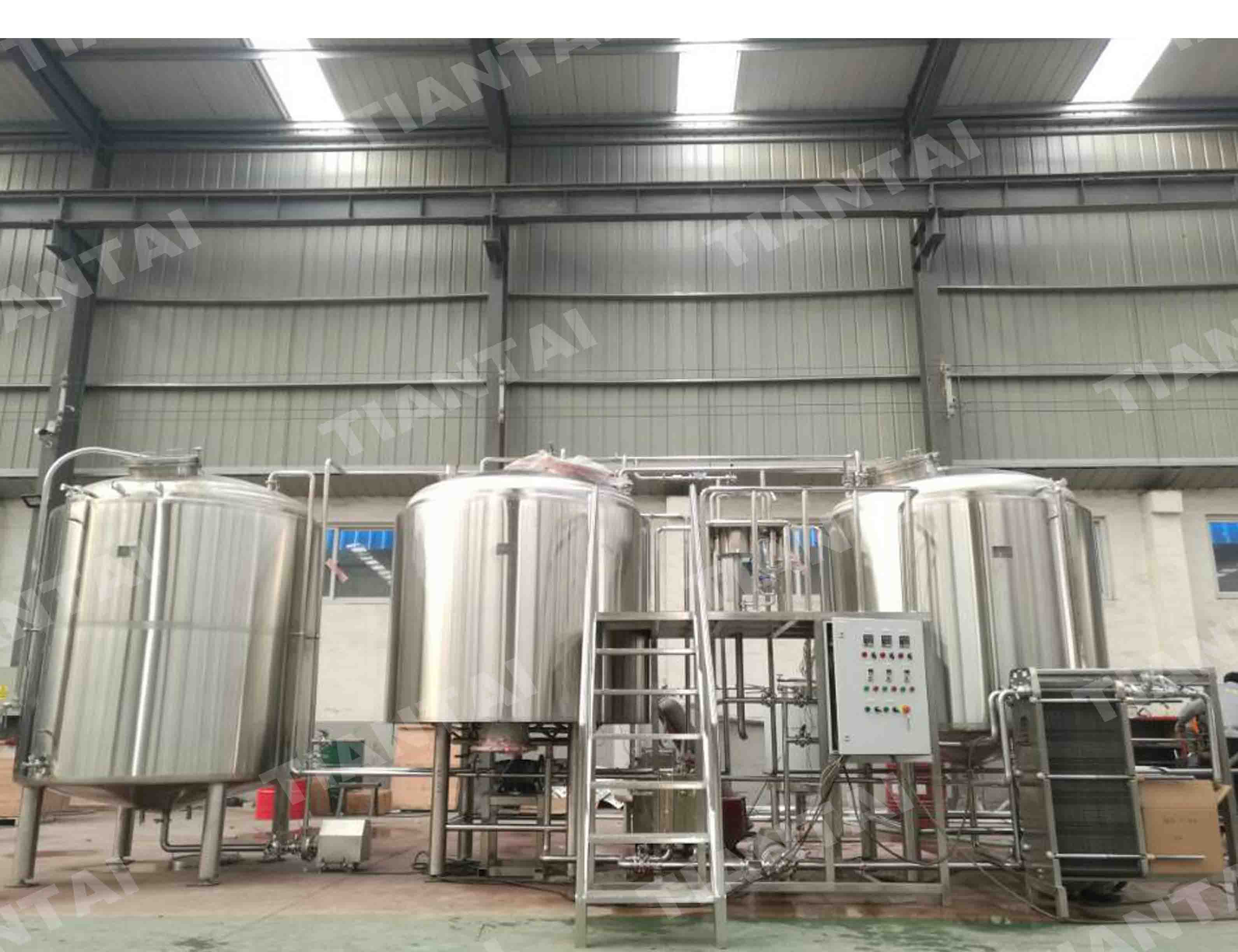 2 Vessels 2000L Brewhouse
2000L Mash/Lauter Tun + 2000L Boil Kettle/Whirlpool Tun
2000L Mash/Lauter Tun/Hot Liquor Tank Combined vessel + 2000L Boil Kettle/Whirlpool Tun
2000L Mash/Lauter Tun + 600L Boil Kettle/Whirlpool + 2000L Hot Liquor Tank

Configuration

Every Weld Blended and Finished to a Smooth Sanitary Finish
Stainless steel brewing platform & integrated stairs or ladder with adjustable foot pads for platform leveling
Stainless steel hard piping and brewhouse manifold with butterfly valves, Sight glass and all required clamps and gaskets to hook tanks together
Stainless steel steam condensation stack.
Sanitary centrifugal pump for mash, wort or hot water transfer
Fixed speed or various speed agitator and rake for efficient lautering and spend grain removing
High Efficiency multi-pass plate type heat exchanger with thermometer and oxygenate aeration stone port (stone not included)
Control panel in stainless steel with digital control and readout to programmable optimized water temperature
V-Wire False Floor Included in Mash/Lauter Tun – virtually guarantees consistent wort flow
Compact- Space Saving and flexible Brewing Configurations
Available in Steam or Direct Fired
Standard Thermometers and Thermawell Adapters
Pilot Light
VFD controlling for pumps and motors
Touch screen panel and PLC program
Semi automatic or automatic control with electronic or pneumatic buttlefly valves
Level gauge




electric brewing system for sale 2000L Electric Brewhouse 20HL Stainless steel Brewhouse