3 bbl Restaurant draft beer system
3 bbl Restaurant draft beer system

Introduction

3bbl Restaurant draft beer system produced by us is a set of technological equipment for the production of "live" and filtered beer. Brew master make their beer attractive to consumers by unique brewing process and distinctive beer taste. If desired, they can be placed directly in places of consumption of beer: restaurants, pub, bars, hotels, tourist and shopping centers. Interpreter may be faced with polished brass, copper besides stainless steel. Also, the microbrewery is placed behind a glass partition that allows visitors to observe the process of making beer. This is an excellent design solution interior and a powerful marketing tool.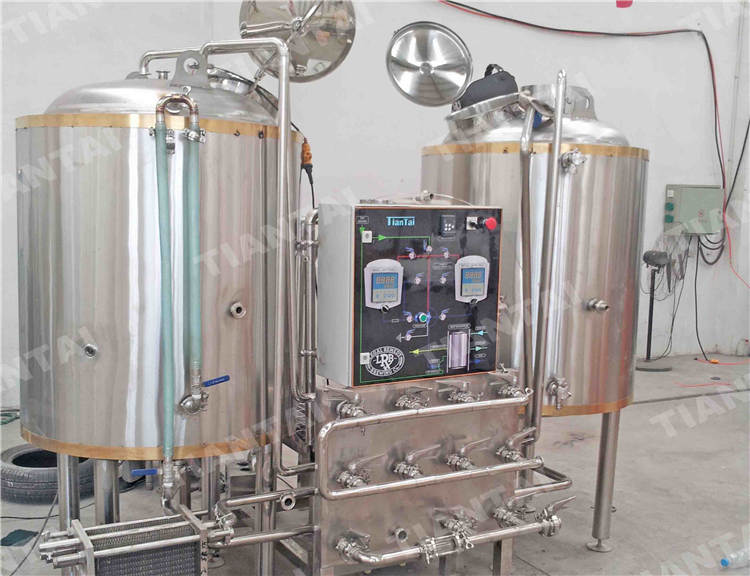 Specifications

Output/Brew

3 bbl

Brew/Week

2~6

Output/Week

6~18 bbl

Electric Supply

3phase/380(220, 415,440…)v/50 (60)Hz
Single Phase/ 220(110, 240…)v/50(60)Hz

Heating Source

Electric/Steam

Area Request

>30M2

Brewmaster

1
Note: 1hl=100liter; 1Gallon=3.7854liter; 1Barrel (BBL) =117Liter;
Configuration
1. Malt Milling Unit
Particle adjustable rolling crusher
Flexible or steel auger for optional

2. 3 bbl Brewhouse Unit
Mash tun, Lauter tun, Boiling Kettle, Whirlpool tun in various combination
Hot water tank and cold water tank for optional in special combinations
Infusion or decoction brewing methods are designed exactly
Stainless steel or copper cladding are popular
Two stages or single stage heat exchanger for wort cooling
Completely stainless steel integrated work platform
Sanitary and efficiency wort pump
All pipings and fittings

3. 3 bbl or 6 bbl Fermentation Unit
Standard stainless steel conical cylindrical fermentation tanks
Single size as brewhouse is common used in restaurant
Tanks quantity is exactly calculated by fermentation cycle for various beers
All manhole, valves, pressure gauges, fittings etc are included

4. Beer Filter Unit(Optional)
In restaurant or bar, beers are always served as craft beer without filtration

5. 3 bbl or 6 bbl Bright Tank Unit
Standard stainless steel bright tanks for beer maturation, conditioning, service, carbonation
Single size as fermenter is common used in restaurant or bar
Tanks quantity is exactly calculated for various beers and the function
All manhole, valves, stone, gauges, fittings etc are included

6. Cooling Unit
Insulated glycol water tank with or without copper coil for glycol liquid holding and mixing
Efficiency chillers or refrigerators with fryonto supply cooling energy
Sanitary centrifugal pump for glycol water recycle among tanks and heat exchanger
All pipes, fitting, insulation materials are included

7. Controlling Unit
Electrical controlling cabinet with temperature, on-off controlling for brewhouse
Electrical controlling cabinet with temperature, on-off controlling for cooling parts
Temperature controller, thermocouple, solenoid valves etc are included
PLC with touch screen panel for special request

8. Beer Dispense
Beer dispensing columns and faucets for directly beer service
Keg filling and rinsing machine
Manually bottling machines for self consumption

9. Other Facilities
Portable CIP system for cleaning the tanks
Steam boiler for brewhouse heating
Water treatment for brew water
Oil free air compressor
brewpub beer brewing system draft beer system